Lady Luna 2 was conceived specifically for passenger transport. She is a new concept ship built by Cantieri Navali Boschetti in Cesenatico and entered into service in July 2015.
She can comfortably carry up to 145 passengers who can take position between the lower deck and the solarium deck.
The spaces inside are equipped with tables and the upper deck is furnished with one-piece armchairs and folding tables.
The Lady Luna 2 motor ship was built in compliance with the highest standards of safety and quality R.i.n.a.
On the ship there are essential services for our excursions and boat tours in the Archipelago of La Maddalena thanks to which we guarantee the quality of an impeccable service and constant comfort for our passengers.
The motor ship Lady Luna 2
Characteristics 
Double WC
Lower deck totally shaded
Upper deck with removable curtain
Covered living room with tables and individual seats
Bar service and refreshment
Professional Bluetooth stereo system
Ladder for swimming from the boat
Highly qualified and experienced crew of the places
Lifeguard
Multilingual tour guide
Thirty years of experience in the maritime sector and the utmost respect and care for the needs of the passenger
Technical data
145 passengers capacity
Length 23 meters
Width 5.30 meters
Cruise Speed 12 knots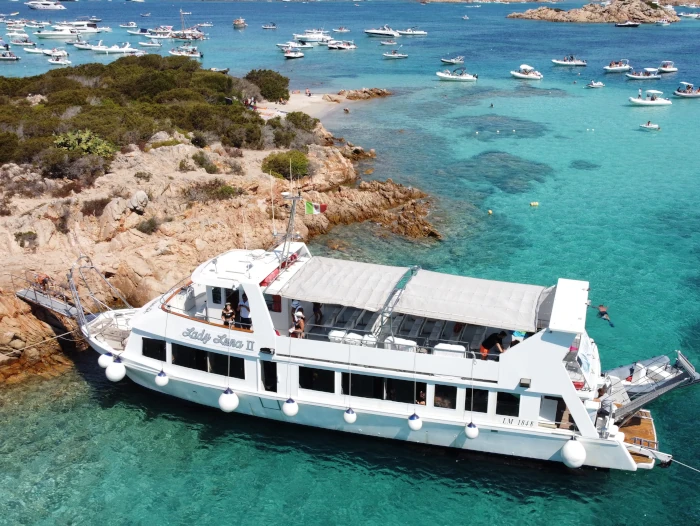 Excursions to La Maddalena on Lady Luna 2
The boat tours departing from Palau or La Maddalena offer the best service to many passengers who choose us every year to visit the beaches of the islands and swim in strategic points. Dozens of passengers can travel on Lady Luna 2, keeping the perception of a moment of relaxation and adventure in close contact with the emotions of the sea high.
You will be able to enjoy a snack and a drink, to accompany the time with a whim, you can sunbathe and enjoy the view or be enchanted by the explanations on the history and characteristics of this sea area in the north of Sardinia.
We are waiting for you to take an excursion together, immersed in a joyful and peaceful atmosphere and to immortalize some of the most beautiful coasts in the world.
Discover the archipelago of La Maddalena Discover the boat excursion